Study Days
10 Nov 2023 09h00Budapest, Hungary
General information
Our 2023 ECR CoR Group Study Days will be held in Budapest, the capital of Hungary. The event is hosted by Mrs Anna Magyar, ECR CoR Group Vice-President and member of the County Council of Csongrád-Csanád, Hungary. On the first day, participants will arrive to their Hotels and partake in a Gala Dinner at the iconic Aranybástya Restaurant in the Buda Castle. The second day, participants will attend the conference in the Upper House of the Hungarian Parliament. The main topics of the conference are as follows:
Promoting family-friendly policies to tackle demographic decline
Fostering historic, regional and cultural traditions to promote a values-based EU
The event will be held in person, with two Panel Discussions, leaving space for audience interaction at the end of each section.
Topics
1. Promoting family-friendly policies to tackle demographic decline
In the first panel discussion speakers will exchange views on aspects of demographic change and the importance of promoting family-friendly policies on the ground. Speakers will showcase local and regional best practices from their respective Member States to help ensure demographic continuity, economic stability and job security, building a more resilient and prosperous EU in the long run. European regions have for long been facing demographic decline which is continuously reducing job opportunities, while urbanisation introduced complex challenges for big cities. To address these, and create a lasting balance, we must help strengthen regions, providing appropriate and effective support.
2. Fostering historic, regional and cultural traditions to promote a values-based EU
To nurture the essence of the European Union, we must continue to foster our diverse historic, regional and cultural traditions, while building a work-based society. A shared sense of identity is essential for a shared sense of responsibility, including greater participation in civic life, which is inevitable for the proper functioning of the EU. To this end, the second panel discussion will seek to evaluate ways through which promoting the identity of Member States and regions can contribute to building a stronger European community, highlighting the role of tradition, rural heritage and religion in creating a safer and more cohesive society.
About Budapest
Budapest stands as a unique gem among European cities, captivating visitors with its historic charm and rich cultural heritage. Nestled along the banks of the Danube River, the enchanting capital of Hungary embodies a harmonious blend of old-world elegance and modern vibrancy. Architecturally, Budapest offers everything from Roman ruins and medieval town houses to baroque churches, neoclassical public buildings and Art Nouveau bathhouses. Its architectural wonders, such as the majestic Hungarian Parliament Building, the grand Buda Castle, and the awe-inspiring Chain Bridge, showcase the city's historic significance and artistic prowess.
The city also serves as a hub for commerce, finance, and trade in the region. Its strategic location at the crossroads of Central Europe makes it a vital economic centre within the EU. The city's well-developed infrastructure, including its world-class transportation networks and modern business facilities attracts international businesses, investors, and entrepreneurs, contributing to the overall economic growth and stability of the European Union. Budapest's role as a political, economic, cultural, and educational centre solidifies its importance within the European Union, significantly contributing to the Union's collective progress.
Location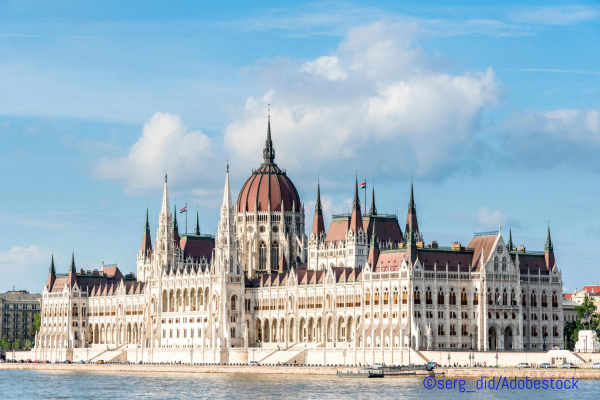 House of Parliament, Kossuth Lajos tér 1-3, 1055 Budapest, Hungary
Map