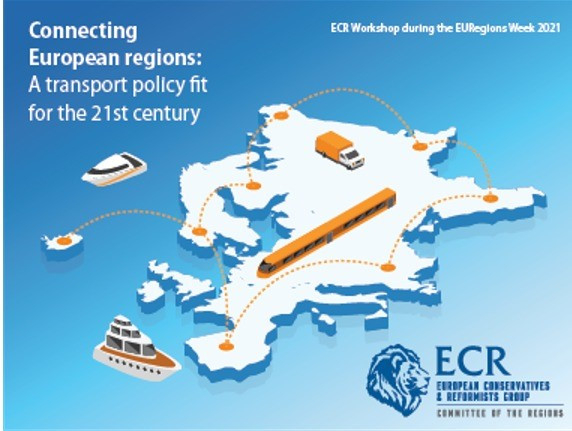 Modern transportation – to meet people and business expectations – must be safe, efficient, smart, digital and clean. In addition to sustainability and technological developments, transportation must respond to a variety of challenges such as EU regions having different infrastructure needs as well as disparities in economic and territorial development models.
This was the subject of lively discussion for participants of the virtual workshop on connecting European regions organised by the ECR Group in the European Committee of the Regions (CoR) as part of European Week of Regions and Cities (EWRC).
Panelists discussed the missing links in current European transport corridors and opportunities to address them.
Opening the discussion was Mr Herald Ruijters, Director of DG MOVE in the European Commission, who highlighted that strengthening the TEN-T network would contribute to "a sustainable, safe, smart and efficient European transport system and at the same time increase accessibility of all regions, which in turn would promote territorial, economic and social cohesion".
ECR Member Marshal Jarosław Stawiarski and CoR rapporteur on the European Year of Rail made the link between achieving climate neutrality and investing in railways and in this regard called for proper financing of infrastructure in addition to a European system for selling tickets "which would provide better accessibility of regions and greater mobility of society".
Representing the EU Railway Agency was Ms Anna Gigantino who emphasized the benefits of rail as mode of transport with the lowest emissions, lowest external costs and lowest impact of air quality: "substituting rail for long-distance road freight would lift the market share for rail freight to 36% and save 40 million tons of CO2".
For the President of the Abruzzo region and ECR Vice-President Marco Marsilio the issue of the lack of strategic infrastructures must be addressed through cooperation between the European Union, national governments, regions and local institutions "to bridge the gap that has long penalised entire territories".
Concluding the conference was ECR member and moderator, Mr Robert Godek, who stated that whilst rail was the main focus as most sustainable mode of transport we must not forget that regional airports also provide accessibility for many regions. Referring to ECR President Marshal Władysław Ortyl's opinion on regional airports, Cllr Godek highlighted their importance for employment and the economy of their region: "we must all cooperate and listen to all points of views so that we can effectively connect the inhabitants of our regions".