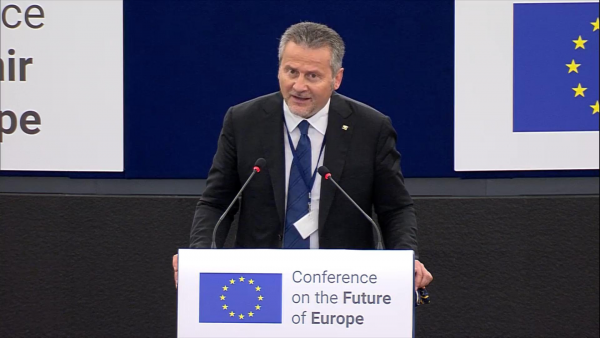 When the plenary session of the Conference on the Future of Europe took place this weekend in the European Parliament in Strasbourg, the voice of more than one million local and regional elected politicians was heard more clearly than ever thanks to an expanded delegation. In total, 30 regional and local delegates attended the second plenary meeting of the Conference on the Future of Europe, and included our very own President of the ECR Group, Marshal Władysław Ortyl (Marshal of Podkarpackie region in Poland), and representatives Roberto Ciambetti (President of Veneto Regional Council in Italy) and Klaudia Szemereyné Pataki (Mayor of Kecskemét in Hungary).
Together they highlighted the vital role they play as the political level closest to and most trusted by citizens and responsible for delivering 70% of EU policy. Participating in a number of thematic discussion groups, around which the final conclusions of the conference will be drawn, President Ortyl, Roberto Ciambetti, and Klaudia Szemereyné Pataki focused on specific sectors such as economy, health and the EU in the world - all areas where local and regional authorities are on the frontline in providing services, infrastructure and support to citizens.
Marshal of the Podkarpackie region, Władysław Ortyl, highlighted the importance of unity in the Conference: "what we need in the Conference on the Future of Europe is a united response from local and regional authorities to Europe's challenges. The Conference has been so far disappointing but local government must continue to make its voice heard!"
Focusing his remarks and observations on the crucial role that regions play in health ECR Member Roberto Ciambetti stated that "achieving the EU's strategic autonomy in the production of medicines is crucial but we cannot obtain it through further centralisation".
Member of the Italian Parliament and former ECR CoR member Matteo Bianchi referred in the Conference plenary session to the potential of the Conference to change the structure of EU decision-making process as well as an opportunity for Europe to go back its roots: "so far we have not been able to successfully involve citizens and local and regional authorities in EU decision-making. This Conference is an opportunity to change that".
The next plenary session of the Conference will take place in December this year.