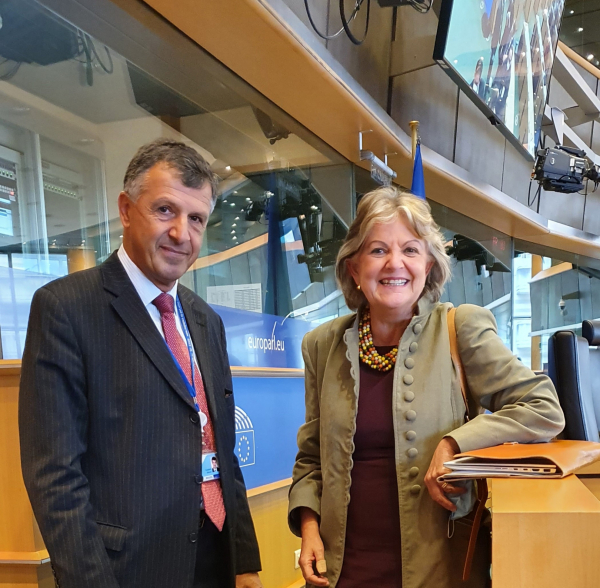 Alongside the REGI-COTER meeting of 18 October 2021, ECR Vice-President Oldřich Vlasák discussed with Commissioner Elisa Ferreira the importance of funding for regional airports and the role of local and regional authorities in the implementation of National Recovery and Resilience Plans. Mr Vlasák explained that regional airports find themselves in a critical situation due to the pandemic and urged for more funds to be given to support them.
In his statement at the REGI-COTER meeting, Mr Vlasák asked the members of the REGI Committee of the European Parliament and Commissioner Ferreira to consider the relevance of the opinion on the future of regional airports for which ECR President, Marshal Władysław Ortyl, is rapporteur. The opinion draws attention to the difficult situation of regional airports, emphasises their importance for recovery and investment needs and discusses possible means of EU support.
Mr Vlasák called for a revision of state aid rules to make them more flexible and for increased support to improve the sustainability and safety of airports. He explained that regional airports are the key to strengthening economic and territorial cohesion: "Regional airports are vital for the sector of tourism and economic development, especially of peripheral regions."
On 18 October 2021, members of the European Parliament's Committee on Regional Development (REGI) and the European Committee of the Regions' Commission for Territorial Cohesion Policy and EU Budget (COTER) discussed in a joint meeting with Commissioner Elisa Ferreira the programming period 2021-2027 and the territorial aspects of the Recovery and Resilience Facility. They asked for the principles of partnership and multilevel governance to be respected and provided recommendations to improve partnership processes.