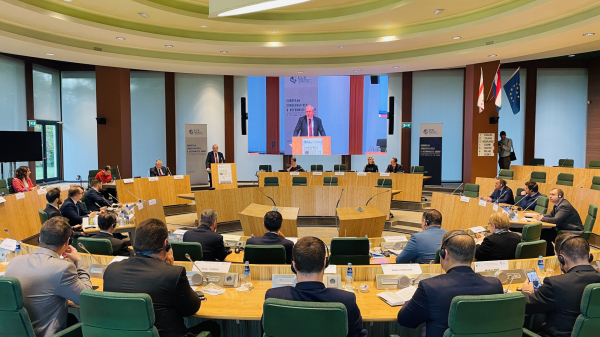 The European Conservatives and Reformists (ECR) Group in the European Committee of the Regions (CoR) today held its third annual Localism Summit. At a conference in Drenthe province (the Netherlands), participants had the opportunity to exchange views on creating sustainable and inventive solutions, such as hydrogen, for the successful energy transition of our cities and regions.
ECR member and host of the Summit Tjisse Stelpstra welcomed the participants and shared experience of how Drenthe aims to become the first region to host an entire hydrogen value chain – from production to distribution, storage and local end-use – by 2026. "The main drivers in kick-starting a hydrogen economy is funding and political will to formulate an ambition. Politicians gathered at our Summit are all interested in investing in new technologies and learning from the Dutch experience".
The Summit was held in Drenthe as it is part of the Hydrogen Valley and is in the midst of both a historic hydrogen project as well as an energy transition. Jetta Klijnsma, King's Commissioner of Drenthe, shared some opening remarks.
In the first panel, politicians and experts discussed regional energy strategies and real world experiences in policymaking.
Among the speakers were Marshal of the Silesia region Jakub Chełstowski, as well as representatives from the National Regional Energy Strategies program and the University of Groningen. The programme also included a video message from the EU Commissioner for Energy Kadri Simson and an energy transition role-playing simulation that allows players to experience challenges when transitioning from fossil fuels to cleaner energy sources.
Moderating the panel was ECR First Vice-President Rob Jonkman who opened the discussion by stating that "the EU climate policy can succeed only if all regions, cities and rural areas will support its objectives through adequate adaptation of their regional energy strategies and if they receive greater financial support".
Marshal Chełstowski spoke about the energy transformation in Upper Silesia, which he stated is done through the prism of technology, environmental and social aspects.
The second panel concentrated on hydrogen and its importance for the energy transition. Speakers included ECR Vice President Marco Marsilio, representatives from the Rzeszów University of Technology and GasUnie, as well as a video interview with the Head of Cabinet of Executive First Vice-President for Climate Action, Diederik Samson.
That was the first Summit of ECR CoR Group held fully in person since the beginning of the COVID pandemic. It was attended by 80 politicians from various European countries.