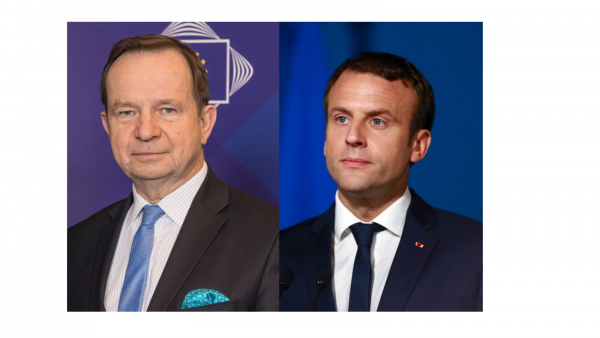 Welcoming the President of the French Republic of behalf of the ECR Group in the CoR was our very own President Marshal Władysław Ortyl who began by setting forth the elements that "unite us all – us conservatives and the liberal French Government".
Stating that both sides are "united by the will to make inhabitants of towns and villages feel safe in Europe", Marshal Ortyl cited the importance of the need to "ensure food and energy security for Europe" as a top priority.
In this regard, the ECR President made reference to the Common Agricultural Policy (CAP), without which he stated it would be "impossible to make Europe safe and secure". Another contributing factor to making our citizens feel safe is developing our energy sovereignty to limit our energy dependence on foreign countries. "This is well illustrated by our support for a larger agriculture budget in the new financial perspective and our support for the development of nuclear energy", stated Marshal Ortyl.
On the question of where differences lie Władysław Ortyl evoked the topic of migration, in particular, the "hybrid attack being carried out on the eastern border of the European Union, for which immigrants are being used as political weapons by the regime of Alexander Lukashenka". In addition, the migratory pressure on the countries of southern Europe is also not subsiding declared Mr Ortyl.
Concluding his impassioned speech to President Macron, the Marshal urged for the French Presidency to support the security of the European Union's external borders "through action based on the consensus of all EU Member States to avoid further internal divisions to mitigate increased migratory pressure".
The debate took place during the December plenary of the European Committee of the Regions.