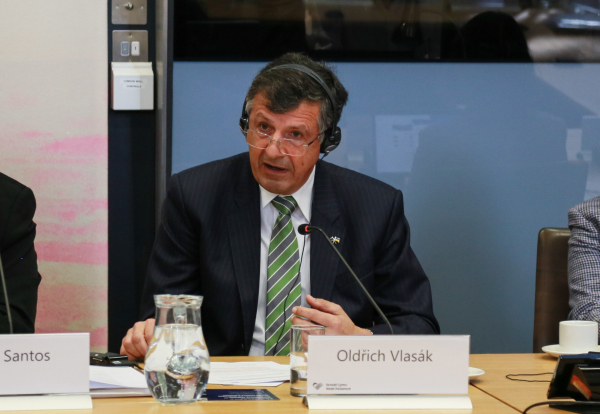 The Senedd, Welsh Parliament, became the first UK institution to host a meeting of the CoR-UK Contact Group, which was the 6th since the group's formation.
Following the United Kingdom's exit from the EU, the CoR established a Contact Group for relations with representatives of UK local government and devolved administrations to ensure that political dialogue with these representatives continues after the UK's withdrawal from the EU.
Representing the ECR Group was our Vice-President Oldřich Vlasák who started by emphasizing the importance of the Contact Group: "The CoR-UK Contact Group is an excellent institutional channel for providing forum for continued dialogue and political partnership between the EU and UK local and regional authorities to discuss problems or opportunities, particularly in relation to thematic areas that know no boundaries".
As chair of a university board in Czechia, Vice-President Vlasák also evoked the "recognition by Czech universities of the importance of the Taith student exchange programme between Welsh and foreign educational institutions". The Taith programme acts as a replacement for Erasmus.
The Group heard from a range of other high profile speakers, including the First Minister of Wales, the Senedd's Deputy Presiding Officer, UK and EU parliamentarians and the EU's delegation to the UK.
Amongst issues discussed was the role of Wales and the Welsh Government in implementing the new UK-EU trade agreement and the future relationship between the UK and the EU, and how the relationship between UK regions and authorities and EU regions and authorities could be strengthened in future.
In the margins of the Contact Group, Mr Vlasák met with the Chairman of the Welsh Conservatives, Laura Anne Jones, with whom he had bilateral discussions.