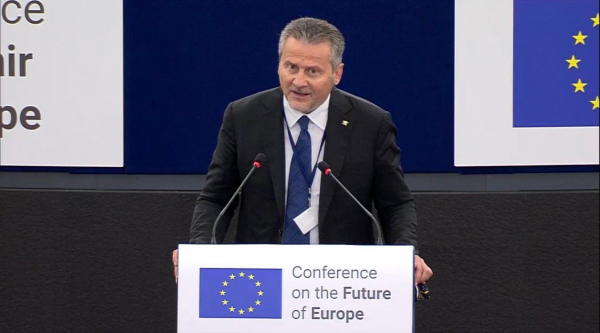 At the meeting of the Working Group on Health during the fifth plenary session of the Conference on the Future of Europe held in Strasbourg on 25-26 March, ECR member Roberto Ciambetti (President of the Veneto regional council, Italy) stressed that the proposals presented by Vice-President Maroš Šefčovič did not take into consideration the ongoing war in Ukraine. According to Mr Ciambetti, new taxes on food would increase prices of basic goods for our citizens, and we cannot allow this during wartime.
Explaining the importance of the promotion of a healthy lifestyle across the EU, Mr Ciambetti stressed that food education should be encouraged, in particular among schoolchildren. Nevertheless, he regretted that the citizens' panel was still calling for the establishment of a European-wide food scoring system, while we had seen how the French 'nutriscore' labelling system unfairly penalised the products of the healthy and balanced Mediterranean diet. For instance, according to this system a portion of French fries is healthier than a spoonful of olive oil.
The ECR member went on to urge the EU to promote the European strategic autonomy on health. As we experienced during the COVID-19 pandemic, "we need more coordination at EU level while respecting the national and regional competences on health", Mr Ciambetti ended by saying.
Mr Ciambetti is the spokesperson of the European Committee of the Regions on the European Health Union.