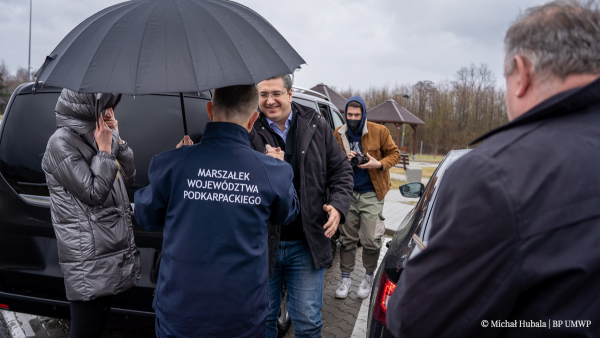 The presidents of the political groups of the European Committee of the Regions gathered in Rzeszów, the capital of Podkarpackie region in Poland on a fact-finding mission to assess the needs of local communities and help shape measures to address the Ukrainian refugee crisis.
Common rules and fast-tracked access are needed to maximize the impact of €17 billion EU support package on the ground: this is the message delivered by leaders of the six political groups in the European Committee of the Regions at an emergency meeting near Poland's border with Ukraine on 6 April attended by Apostolos Tzitzikostas, President of the European Committee of the Regions, Elisa Ferreira, European Commissioner for Cohesion and Reforms, Younous Omarjee, chairman of the European Parliament's committee on regional development, and Tetiana Yehorova-Lutsenko, chairwoman of the Kharkiv District Council. The first part of the meeting was hosted by the president of the Podkarpackie Region and ECR CoR Group President, Mr Władysław Ortyl.
Mr Ortyl said: "I am very glad that the members of the European Committee of the Regions together with its president, came to Podkarpackie, to a region that directly borders with Ukraine. At the border crossing, they saw what the drama of war is. This is an unimaginable situation in the 21st century. From the very start of the war, Poles have opened their hearts, showed solidarity, brought every help possible to Ukrainians. All of Europe now needs to show such solidarity. I am glad that the appeal of the Polish delegation in the Committee of the Regions was widely echoed, and that support from the European level will also be given to brave Ukraine."
The European Committee of the Regions launched an Info-Support Hub to match needs and offers of support: EU local and regional authority who want to offer help or need support can contact the hub.
The EU's member states this week gave the green light to changes in rules governing the disbursement of long-term regional development funding, to enable the use of these funds to address the needs of refugees. This flexibility means, for example, that schools and hospitals will be able to access money that was left over from the EU's budget for 2014-20, or that is available from the COVID-19 economic recovery package. Applications will also be received for activities that began on 24 February 2022, the date on which Russia launched a full-scale invasion of Ukraine. European institutions estimate that the set of changes will make almost €17 billion available. The ECR CoR Group underlines that this help is very much welcome, but will need to be significantly increased in the coming days.
A video of the meeting can be watched here.