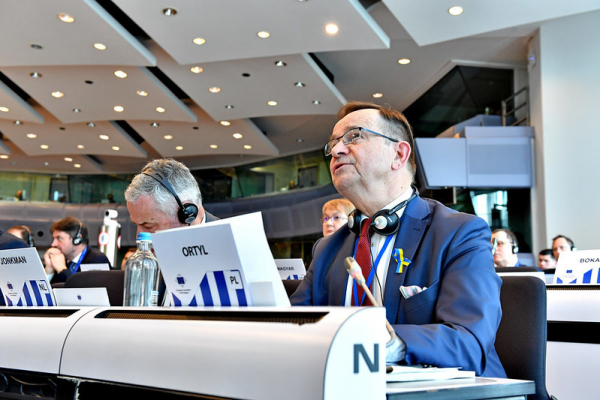 Voices in the debate at the 149th plenary session of the European Committee of the Regions in Brussels on the war in Ukraine included the president of the ECR Group, Marshal Władysław Ortyl of the Podkarpackie region, which over three million Ukrainian refugees have passed through so far.
"In the history of the EU, there have never been so many refugees arriving in one country in such a short time as during the past two months. In the face of a refugee crisis of an unprecedented scale, I am calling on the European Commission to significantly boost financial assistance to local and regional authorities in Poland and other countries that have received the most refugees and are bordering Ukraine, such as Hungary, Romania and Slovakia", Mr Ortyl said in his statement, stressing that he appreciated the assistance efforts made so far by the Commission, including making the procedure to use the REACT EU Fund easier.
"We have already used almost all funds under the previous financial perspective. New funds are urgently needed to help refugees, as well as to support our economy, which is also affected by the war", he continued, emphasising the many facets of assistance given to refugees and the need to sustain it over the long term. He called for urgent measures to mobilise new aid funds for the economy and rebuilding Ukraine that are commensurate with the scale of the crisis.
"Russia has invaded our country because it does not accept that we want to be part of the European family; they are targeting us because they want to rebuild their Soviet empire. Our women and children are being killed constantly, our cities are being destroyed. I thank you for your political support, thank you for your friendship, which we feel from many parts of Europe. I thank you for the humanitarian aid. It is important for us that Ukrainian local elected representatives are included in the working group at the European Committee of the Regions. We are not only defending peace in our country, but also the same values and principles as European countries", Vitali Klitschko, Mayor of Kyiv, said during the debate.
Elisa Ferreira, European Commissioner for Cohesion and Reforms, also took part in the debate. Mentioning the actions undertaken by the European Commission, she said that "cohesion policy must play a role in helping; we have a long-term policy, but we also act in emergency situations such as this".