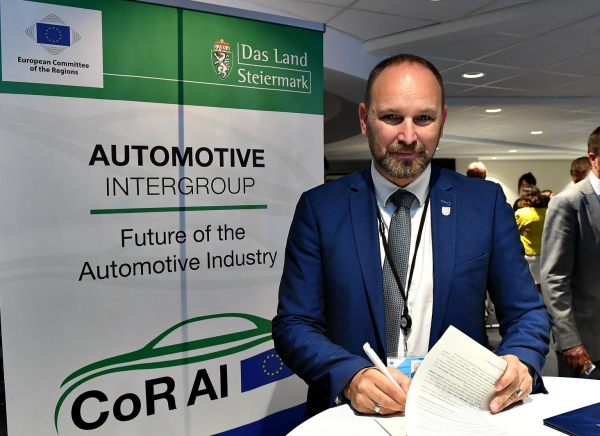 During the CoR plenary debate on the Automotive Regions Alliance, a number of our ECR Group members expressed their strong support for the creation of a new cooperation network of regions where the automotive sector plays an important role, in order to ensure just and fair transition and enhance cooperation.
Marco Marsilio, ECR Group President and President of the Abruzzo Region, explained how his region is actively involved in the Automotive Regions Alliance whose aim should be to reconcile ambitious climate objectives with the needs of the sector. Jobs in the automotive sector nowadays are at risk and with the limits imposed upon us by the European Commission's proposal to end combustion engine sales as of 2035, the industry must be able to both adapt and maintain its competitiveness at the same time.
"We need impact assessments at regional level on the proposed changes, more flexibility in State aid guidelines and public-private funding", said Mr Marsilio.
Jozef Viskupič, Chairman of Trnava Self-Governing Region, also underlined that his region in Slovakia has a very strong automotive sector and expressed his solid support for the Automotive Regions Alliance. He noted that the impact of the transition will be severe and in order to facilitate the transition process, regional administrators need more funding tools and local expertise has to be taken into account. Mr Viskupič called for increased investment in human capital, training and education in this regard.
ECR member Elia Delmiglio, Mayor of Casalpusterlengo, presented the Lombardy region in Italy, where the car industry generates EUR 20 billion a year. Mr Delmiglio was also very sceptical about the proposal to end combustion engine sales by 2035.
"Despite the fact that in Lombardy we have launched a sustainable mobility plan for a gradual transition, the suggested Commission proposal could lead to increased dependence on third countries like China, and the EU would lose its autonomy while putting many jobs in the region at risk", said the Italian mayor.