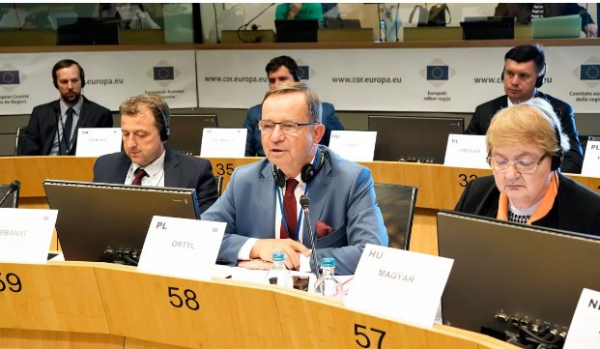 The effects of the war in Ukraine, ways to help refugees and the impact on cohesion funds were topics of discussion at the European Committee of the Regions' plenary session meeting in Brussels, in which Marshal Władysław Ortyl took active part. The ECR Group First Vice-President called on the EU institutions to provide EU regions hosting the highest number of refugees with more financial assistance.
On the second day of the session, much attention was paid among local issues to the involvement of the EU's regions and local authorities in helping refugees and supporting Ukraine in its fight.
Marshal Władysław Ortyl spoke not only on behalf of Podkarpackie region, but also Lubelskie – the two European regions that have taken in the most refugees.
"The problem covers many areas, particularly for society, because it entails huge costs. We have mostly taken in women and children. We have to provide them accommodation, places in schools and kindergartens, to expand the infrastructure. (…) This is a new situation in all areas of life. It is necessary to build sheltered accommodation, renovate classrooms" – Mr Ortyl listed the needs linked to the refugee crisis.
He also spoke about the need for support for local economies:
"We need to support our local economies in Podkarpackie and Lubelskie. Many businesses are already stepping back from innovative projects. Tourism in our regions has been reduced to 60%. These problems are bigger than during the COVID-19 pandemic, and today we are spending all of our budget, and the state budget, on them."
Mr Ortyl noted the support actions undertaken by both regions, which included purchasing ambulances and respirators for Ukraine, building sheltered accommodation and organising camps for Ukrainian children in Rymanów Zdrój.
He has also met with representatives of Ukrainian central government authorities and local governments from Irpin and Bucha.