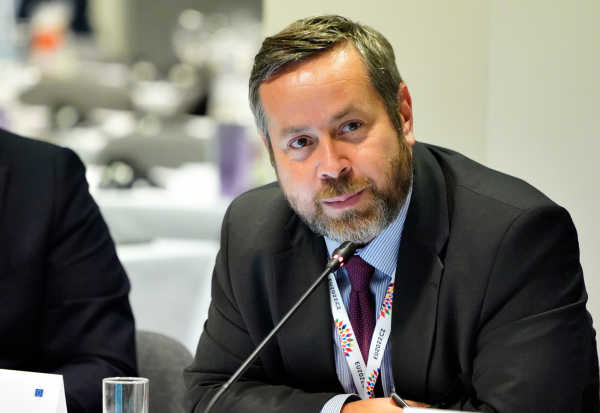 The challenges facing today's cities and regions of the European Union as a result of the war in Ukraine were discussed at the 213rd meeting of the Bureau of the Committee of the Regions, which was held in Prague. Marshal Władysław Ortyl, First Vice-President of the European Conservatives and Reformists Group in the CoR, took part in the discussion.
"I am pleased that at the Committee of the Regions we are discussing the challenges for cities and regions arising from the crisis caused by the war in Ukraine. It is important that in a group such as ours, we highlight these problems and jointly seek the best solutions. Russia's invasion of Ukraine has triggered practical consequences that we, as local and regional authorities, are having to deal with today. This is why we need to support each other and talk about what we can do together," said Mr Ortyl.
The European Conservatives and Reformist Group recognises the burden on citizens and private companies but also on public institutions funded from local budgets, such as schools or hospitals, to provide housing and public services to Ukrainian refugees. At the same time, the group's members point out that local and regional authorities in the European Union must deal with these challenges on top of having to grapple with the economic and social consequences of war, such as rising energy costs and inflation. The ECR Group therefore calls for the creation of a new European Union fund to support the regions and cities that are hosting the largest number of refugees fleeing the war.
The Committee of the Regions meeting was also an opportunity to grant honorary CoR membership to Vitali Klitschko, Mayor of Kyiv and President of the Association of Ukrainian Cities, who actively participated in the talks on Ukraine's reconstruction.
Chaired by our member, Pavel Branda, the panel on the reconstruction of Ukraine brought the pressing need for coordination of help to the fore: "The level of destruction of some Ukrainian cities is beyond imagination. There is a great need for coordinating help. Local leaders, governments and the EU need to speak with one voice", stated Mr Branda.
In addition, ECR President Marco Marsilio participated in the Conference of Presidents (CoP), which is traditionally held before the CoR Bureau meetings. Consisting of the CoR President, First Vice-President and Presidents of all political groups, the CoP prepares the work and facilitates the search for political census on decisions to be taken by the other constitutive bodies.