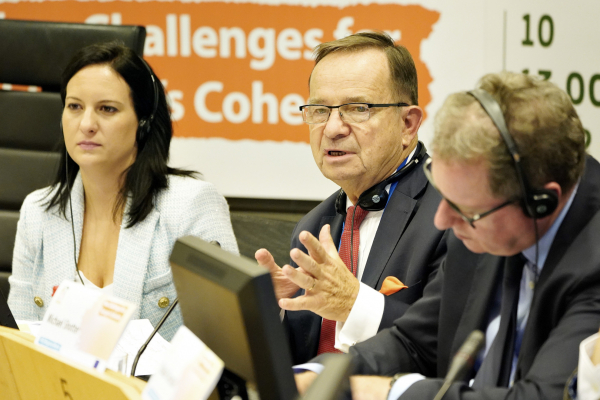 During the 151st CoR plenary session on 10-12 October, the ECR political group in the CoR hosted its annual workshop. This year's workshop was entitled "Refugees fleeing the war: the role of border regions" and discussed regional efforts in the Ukrainian refugee crisis and the EU tools available to address it. Conclusions were also drawn about the ongoing interpretation of and distinction made between legal and illegal immigrants.
Key speakers included Barbara Hegedűs, Deputy Mayor of Veszprem; Władysław Ortyl, Marshal of the Podkarpackie region; Donatella Tesei, President of the Umbria Region; Oszkár Seszták, President of the County Council of Szabolcs-Szatmár-Bereg Megye; and, finally, Michael Shotter, Director of the Directorate for Migration and Asylum at the European Commission's DG Home.
With winter looming in Europe, coupled with the war in Ukraine and economic turmoil, it seems that the resilience and solidarity of regions in Europe will be once again tested when it comes to their reception capacity. Their resilience was already tested in the past, Mr Seszták clarified, "with the raging Balkan war in the 1990s, when South Hungary showed its solidarity through economic efforts", and after the start of the war in February this year. At the same time, he emphasised that regions need more financial support from the EU to address the new challenges.
Similarly, Marshal Ortyl called on the EU "to ensure an act of solidarity with the Ukrainian people", but recognised that to do so would require additional support in the regions closest to Ukraine. As a result, through a combination of EU and national funds, the local economy, job opportunities, housing and medical care could continue to be made available to those affected.
However, when it comes to addressing the refugee problem, Ms Tesei argued that the reconstruction of Ukraine should be viewed as being equally important and should go hand in hand with the current support to regions affected by the flow of refugees from Ukraine. Furthermore, "dialogue, innovative know-how, and the restoration of social services should be a combined focus of the EU regions" if we want to intervene and reinstate a sense of peace and solidarity in the European territory", Ms Tesei stipulated.
Lastly, Mr Shotter shared his concerns and praised the bottom-up strategies of the regions operating in conjunction with the European Commission programmes, such as the Safe Homes initiative. The initiative provides targeted guidance to support the efforts of regional and local authorities by providing safe housing for people fleeing the war in Ukraine.
The workshop was attended by almost 200 online participants.