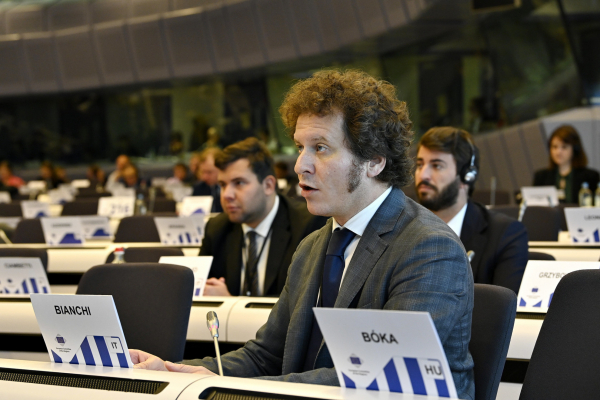 During the October CoR plenary session Matteo Bianchi, ECR Coordinator in the Commission for Citizenship, Governance, Institutional and External Affairs (CIVEX) and City Councillor in Varese in Italy, represented our group in debate on the Future of Europe with Dubravka Šuica, European Commission Vice President for Democracy and Demography. Our member warned that the Conference on the Future of Europe must not be used to centralise the EU.
Mr Bianchi, who participated in the Conference on the Future of Europe as a member of the Italian Parliament delegation, said: "the involvement of thirty local and regional political representatives in the Conference was a positive signal sent by the EU institutions to local authorities. A signal that our voice must be heard. But what is much more important is that the European institutions do not use the Conference on the Future of Europe to promote a further centralization of Europe, which I am afraid what is happening at the moment".
Local and regional representatives insisted during the debate that a concrete follow-up of the conclusions resulting from the Conference on the Future of Europe is needed and that regions and cities will play their part in this process. While the majority of members welcomed the European Commission's support for a Convention to revise the EU Treaties, Mr Bianchi underlined that the ECR Group remains skeptical about the proposal to rush with treaty changes.
ECR Group members in the Committee of the Regions believe that the right of veto and unanimity voting in the Council should be maintained. These principles are crucial to protect countries from any form of abuse of power by coalitions of countries and to maintain a balance of power between the Member States and the European Union itself.