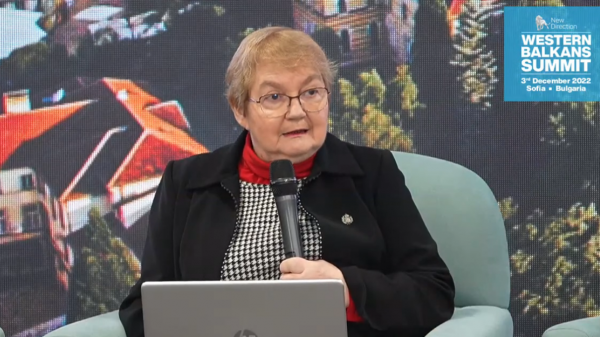 ECR CoR Vice-President Anna Magyar, and recently nominated CoR Rapporteur on the Enlargement Package, featured as one of the key speakers at the New Direction Western Balkans Summit 2022, which took place on 3 December in Sofia, Bulgaria.
This year it was perhaps more important than most, with both triumph and turbulence for the Western Balkans region. From elections in Bosnia Herzegovina and Bulgaria, to the EU Commission recommending Bosnia for candidate status and negotiations beginning for Albania and North Macedonia to join the EU.
Invited to share her personal experiences about security and migration, Ms Anna Magyar had plenty of first-hand tales to share as she comes from a Hungarian county of Csongrád-Csanád, situated right at the Serbian border. Less than 10 km from Serbia, Ms Magyar has been witnessing first-hand since 2015, border security and illegal migration issues.
Ms Magyar praised the huge efforts deployed by Hungary to prevent the illegal border crossings and to stabilise the security of the region, which includes the building of fences at the Serbian border. The Western Balkans has been a main migratory path making it prone to migratory pressure from outside Europe importing instability and threats to security. Being at the doorstep to the European Union, any instability and threat to security in the Western Balkans, as well as foreign interference, has a negative spill over effects in the Union.
On the other hand, the ECR CoR Vice-President lamented the lack of financial support from the EU to protect the Schengen area, which Hungary does by using complex border control, reinforcing fences, and preventing smugglers from entering.