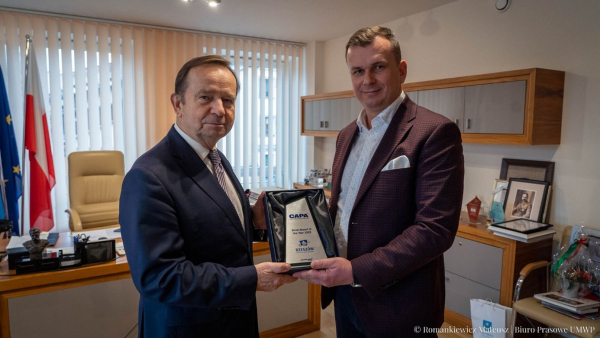 For the very first time, Rzeszów-Jasionka airport has won the title of Small Airport of the Year (2022), awarded by the international industry association CAPA – Centre for Aviation. The prize-giving ceremony took place at the annual CAPA Awards for Excellence, held in Gibraltar.
CAPA experts praised the airport for the crucial role it had played in supporting Ukraine, both in terms of managing different kinds of aid arriving from all across the world, and in evacuating refugees affected by the humanitarian crisis. The airport in Jasionka was awarded the prize for rising to the sudden and pressing challenges it had faced, requiring it take on extraordinary responsibilities.
"When the war broke out, work at the airport stepped up considerably. At that time, nobody was thinking about awards. Staff were more concerned with the needs of the moment and had a genuine desire to make our airport work smoothly and serve all those in need. At one point, the airport in Jasionka was at the centre of events. In spite of large numbers of flights and with the most important people in the world arriving here, the rhythm of passenger services was not disrupted," added Władysław Ortyl, Marshal of the Podkarpackie region.
"I welcome this award, which says to the world that smaller airports are entirely professional and capable of achieving big things. It also responds to our calls at European level to support regional airports following the COVID-19 crisis", said the Marshal, who has been the spokesperson of the European Committee of the Regions on the future of regional airports.