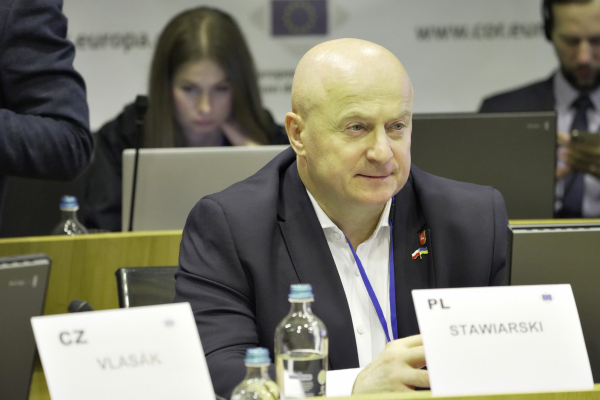 Ukraine's EU integration and the challenges facing Euroregions, as well as the need for regional and cross-border cooperation in Central and Eastern Europe against a changing geopolitical landscape, was the subject of a conference held in East Poland House in Brussels. One of the key speakers was Jarosław Stawiarski, ECR Member and President of the Lubelskie Region.
"Cooperation across borders requires an understanding of one's neighbour. The know-how that Polish regions have acquired over the years enables them to better understand the problems facing Ukraine's regions. Initiatives supporting international cooperation, such as Interreg, can become a litmus test of Ukraine's readiness to join the European Union. A new programme stands before us, which we want to make good use of to ensure that available resources are translated into real cooperation and integration with Ukraine," Mr Stawiarski said.
The first panel discussed Ukraine's integration with the European Union in the context of regional and cross-border cooperation. The panel included Władysław Ortyl, President of the Podkarpackie Region and First Vice-President of the ECR Group, who said that local and regional authorities could play a key role in Ukraine joining the EU:
"If the European Union had decided on Ukraine's accession earlier, Russia might not have invaded, as is happening now. From a regional point of view, especially the regions bordering Ukraine, we can play a significant role in preparing Ukraine for integration with the EU. This is why we are taking part in various initiatives, with institutional experience that we can translate into support. It should be borne in mind that the Interreg programme has built this mutual relationship over the past years, and Ukraine's access to pre-accession funds can only strengthen this cooperation," Mr Ortyl said.
Marshal Ortyl drew attention to the emergence of self-government in Ukraine and the possibility for Polish local and regional authorities to support this process: "In a certain sense, there is healthy competition between regions and countries regarding the pace of development. Today, in this difficult situation in which we and Ukraine find ourselves, what we call unity and solidarity is our great contribution to bringing the war to an end and to the future reconstruction of Ukraine. Local and regional authorities have demonstrated their initiative and competence in these dramatic circumstances and can be called on to play a part in reconstruction and integration. But we still need very close cooperation with Ukraine".