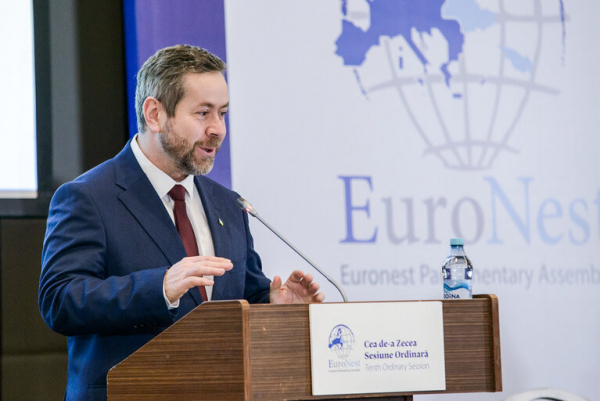 Against the backdrop of war in Ukraine, Members of the Euronest Parliamentary Assembly discussed how to take the EU's Eastern Partnership initiative forward. Deputy Mayor of Rádlo Municipality and CORLEAP Bureau member Mr Pavel Branda addressed the Assembly on behalf of the European Committee of the Regions.
"The recent developments on the Eastern borders of the EU have profoundly changed the geopolitical and economic circumstances and require a reshaping of the Eastern Partnership. It will however remain the main multilateral framework for cooperation between the EU and its Eastern European partner countries" stated Mr Branda.
Describing the framework as indispensable, especially in the current very challenging times, Mr Branda called for it to be "redesigned to support the EU accession process of Ukraine and Moldova, and the European aspirations of Georgia, while staying relevant for all participants".
The European Committee of the Regions and CORLEAP plan to engage more in bringing local and regional authorities from Eastern Partnership's countries and EU Member States closer together through peer-learning and people-to-people cooperation. These perspectives will be further explored at the forthcoming CORLEAP Bureau meeting in Brussels on 16 March, and at the next annual meeting in Batumi, Georgia, on 7 September 2023.