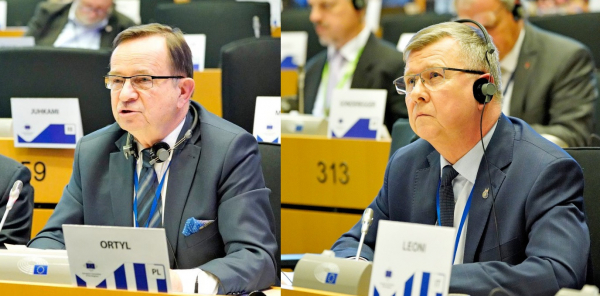 In a CoR plenary debate to mark one year of Russia's unjustified aggression against Ukraine, Presidents of Regions from the ECR group underlined the multitude of ways in which they are continuing to provide support to their Ukrainian peers and the Ukrainian people.
Given that Podkarpackie is a bordering region with Ukraine, it has been playing a key role in helping war refugees as well as in the handling of aid for the war-torn country.
However, further investments are needed in making cross-border railway and road transport more efficient by building and developing cargo handling terminals close to the main transport routes. "Strengthening the transport system in the border area is crucial not only because of the current geopolitical situation marked by war, but also for the subsequent reconstruction of Ukraine" stated ECR's First Vice-President Władysław Ortyl, Marshal of the Podkarpackie region.
"We all hope that Russia will soon lose the war it has unleashed. However, before that happens, the international community, governments and regions of the EU must not forget that Ukraine is still fighting and war refugees still need support" underlined the President of Małopolska region Witold Kozłowski.