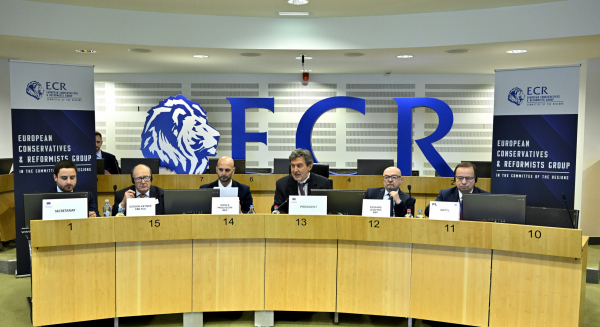 The European Conservatives and Reformists (ECR) Group in the European Committee of the Regions (CoR) today celebrates 10 years since the group's founding in April 2013.
In his welcome address, President of the ECR Group, Marco Marsilio, spoke of the huge challenges and obstacles of the last decade from the COVID-19 pandemic to Russia's war of aggression against Ukraine. However, for the President of the Abruzzo region, Mr Marsilio, "every difficulty only reaffirms the need for our presence in Brussels, and it is no coincidence that the European Conservatives and Reformists Group is growing bigger and bigger".
He continued by warmly acknowledging efforts made by the members of the group to promote the voice of common sense within the CoR and to "defend traditions and the principle of subsidiarity". The President thanked the close to 60 members for their tireless work in promoting conservative values and reformist policies as well as local decision-making".
First Vice-President Marshal Władysław Ortyl emphasized that the European elections in 2024 will be instrumental for the European Conservatives and Reformists in gaining more influence in EU decision-making. "We have seen in elections across Italy, Finland, and Sweden that our conservative parties have been resoundingly successful. Let's continue to make our voices heard".
Guests of honour included the co-chairmen of the ECR Group in the European Parliament, Professor Ryszard Legutko and Nicola Procaccini, both of whom highlighted the hard work of conservative politicians in Brussels towards a vision of a common-sense reform for the whole EU.
Co-chairman Prof. Legutko stated: "We should remember that without regional and local governments, who are on the front line of some of society's biggest challenges, there is no state. We must continuously strengthen cooperation and fully involve local and regional authorities in decision-making processes at EU and national level".
Co-chairman Mr Procaccini shared his best wishes with the ECR Group highlighting that "ten years in politics marks the transition from youth to maturity. We are united by the desire to best represent citizens and to help strengthen the ties between individual territories and the European Union, based on a common vision of Europe as a community of nations, each with its own languages, traditions, borders. We cannot be ashamed of our history and identity, and we will keep working together to defend them".