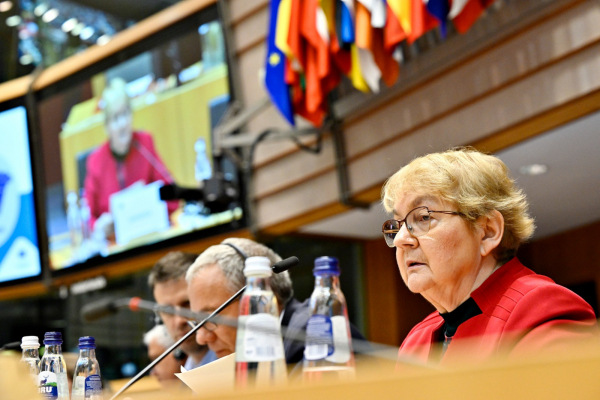 Vice-President Anna Magyar's opinion was unanimously adopted by the CoR members during the plenary session in Brussels. The opinion stresses the historic opportunity the geopolitical context offers to the candidate countries and in particular those from the Western Balkans. It calls for investing greater time and effort in support for local administrations, economic ties and peer-to-peer capacity-building instruments.
When presenting results of her extensive work, Anna Magyar, Member of the County Council of Csongrád-Csanád in Hungary, said that "enlargement policy is one of the most successful policies of the European Union. It brings countries together and thereby ensures peace, stability and prosperity for the EU and our immediate neighbourhood. It also solidifies democratic governance in our partner countries at the local level. That is why I would like to stress that a successful enlargement policy is as much in the EU's interest as it is for those countries that see their future as part of our common project".
The ECR's Vice-President has been the Committee's spokesperson for enlargement for the second year in succession. In her plenary speech, she stressed that the added value of enlargement policy is even more apparent in the current changing geopolitical context "Europe's resilience can be demonstrated by the fact, that even in times of hardship, we are moving forward together. To this end, enlargement is once more becoming one of the EU's top priorities".
During the enlargement debate, the President of County Council of Szabolcs-Szatmár-Bereg Megye in Hungary, Oszkár Seszták underlined the fact the adoption of the enlargement opinion is very timely as it follows the European Council conclusion of 30 June, which mentions the unequivocal commitment to the EU membership perspective of the Western Balkans. "Last month marked 20 years since the Thessaloniki Agenda for the Western Balkans declaration back in 2003. This opinion is an expression of our full support for the acceleration of the merit-based accession process" he stated.
In attendance at the debate was the European Commissioner in charge of enlargement policy, Olivér Várhelyi.