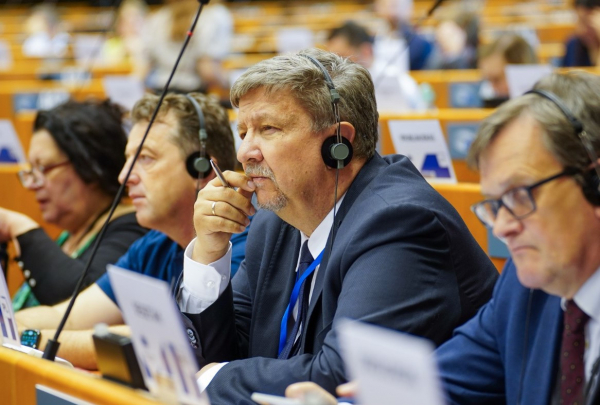 During the CoR plenary debate on US and EU local and regional authorities, Marshal Grzegorz Schreiber emphasised the benefits of the cooperation between the CoR and the US National Conference of State Legislatures.
During the debate, ECR member and President of the Łódzkie region, Marshal Grzegorz Schreiber, addressed Robin Vos, the President of the US National Conference of State Legislatures (NCSL) and Wisconsin State Assembly Speaker.
Marshal Schreiber drew attention to the fact that, although we tend to see the EU-US partnership mainly in global issues, "the most important things for citizens' daily lives happen in their immediate environment, at the local, regional, and, in the case of the US, state level. This is why multi-level cooperation is so important."
At the same time, the sub-national governments in the EU and the US share similar objectives and challenges: "Businesses seek communities where they have the freedom to prosper, families want safe and clean communities with high-quality education, young people move where the jobs are, elderly people need good health care and care facilities, and local communities in Europe and America continue to be the bastions of hope and safety for refugees fleeing war."
Among the potential sectors for cooperation identified by Marshal Schreiber between the CoR and the NCSL are "smart regulation, public-private partnerships, subsidiarity, innovation and business ecosystems, and the role of sub-national governments in policymaking".
The debate also featured a video message by New York City Mayor Eric Adams.