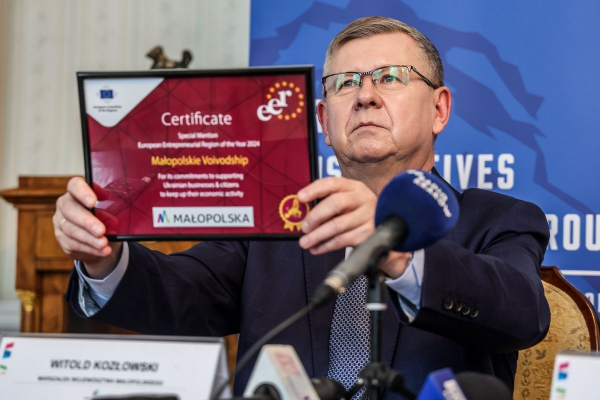 At this year's edition of the European Entrepreneurial Region award, Marshal Witold Kozłowski received an honorary special mention for setting up a regional hub supporting Ukrainian businesses in Małopolskie.
"It is a great success for Małopolska. Only three regions from all over Europe are awarded each year. This year, for the first time, an additional special distinction was awarded unanimously by the jury to our region, which already holds the EER title gained back in 2016" - emphasised Marshal Kozłowski, who received the award in Brussels during the CoR's July plenary session.
Małopolska was awarded for its commitment to become a regional hub and centre of expertise for Ukrainian businesses and citizens willing to keep up their economic activity. Through a set of concrete initiatives and cooperation with partners across the borders, the region lays its important brick to the process of future re-construction of the Ukrainian economy after the end of the war.
"We have long been investing in promoting entrepreneurship for Małopolskie. With a war raging just across Poland's border, we have provided unwavering support to Ukraine and its people, contributing our potential and experience to help the nation recover and rebuild. We are ready to embrace our role as a hub for expertise and entrepreneurship for Ukrainian businesses."
The EER award is a project that each year identifies and rewards EU territories, which show an outstanding and innovative entrepreneurial policy strategy, irrespective of their size, wealth and competences.