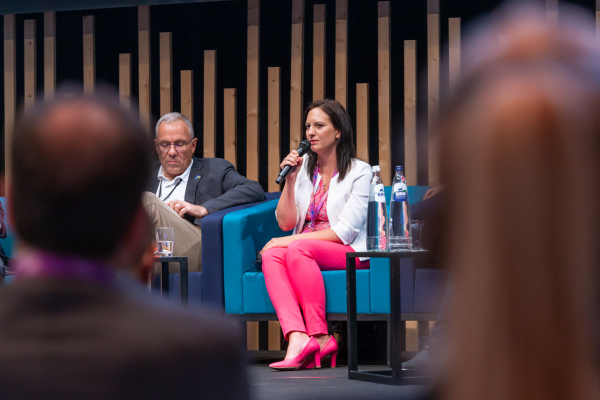 Deputy Mayor of Veszprém Barbara Hegedűs took part as speaker in a thematic discussion on "Local Governance and Decentralisation Processes" at the EU-Latin America and the Caribbean Forum organised in Brussels by the European Commission's Directorate-General for International Partnerships.
"Local governance and decentralisation processes are crucial for fostering effective and inclusive democratic systems regardless of geographical scope. In today's fast evolving and contested world, our partnership is of geostrategic relevance" - emphasised Ms Hegedűs.
The session addressed the key challenges faced by EU and LAC local governments and the need to strengthen subnational governments and decentralization in Latin America as a means not only to improve the provision of basic services to vulnerable populations, reduce spatial segregation and inequalities but also as a way to strengthen democracy and accountability.
"Centrally-led, top-down policies and programmes cannot alone succeed in addressing the complexities of sustainable development, post-pandemic recovery and eradicating poverty. Active involvement of public and private actors at the local level is equally important for implementing desired changes" the Deputy Mayor of Veszprém stated.
"With deep historic and cultural ties, grounded in a shared commitment to human rights, democracy, sustainable development and multilateralism, the need for a close cooperation between our regions in defence of a rules-based and inclusive global order cannot be underestimated" – concluded Ms Hegedűs.

The EU-LAC Forum is organised in the context of the third EU-CELAC summit which will bring EU leaders and leaders from the Community of Latin American and Caribbean States (CELAC) together in Brussels on 17 and 18 July 2023.